You are interested in customized career paths? At Siltronic it is possible!
Whether you are an engineer, computer scientist, economist or you are looking for a job as an operator or craftsman: with us you will find the right opportunity!
---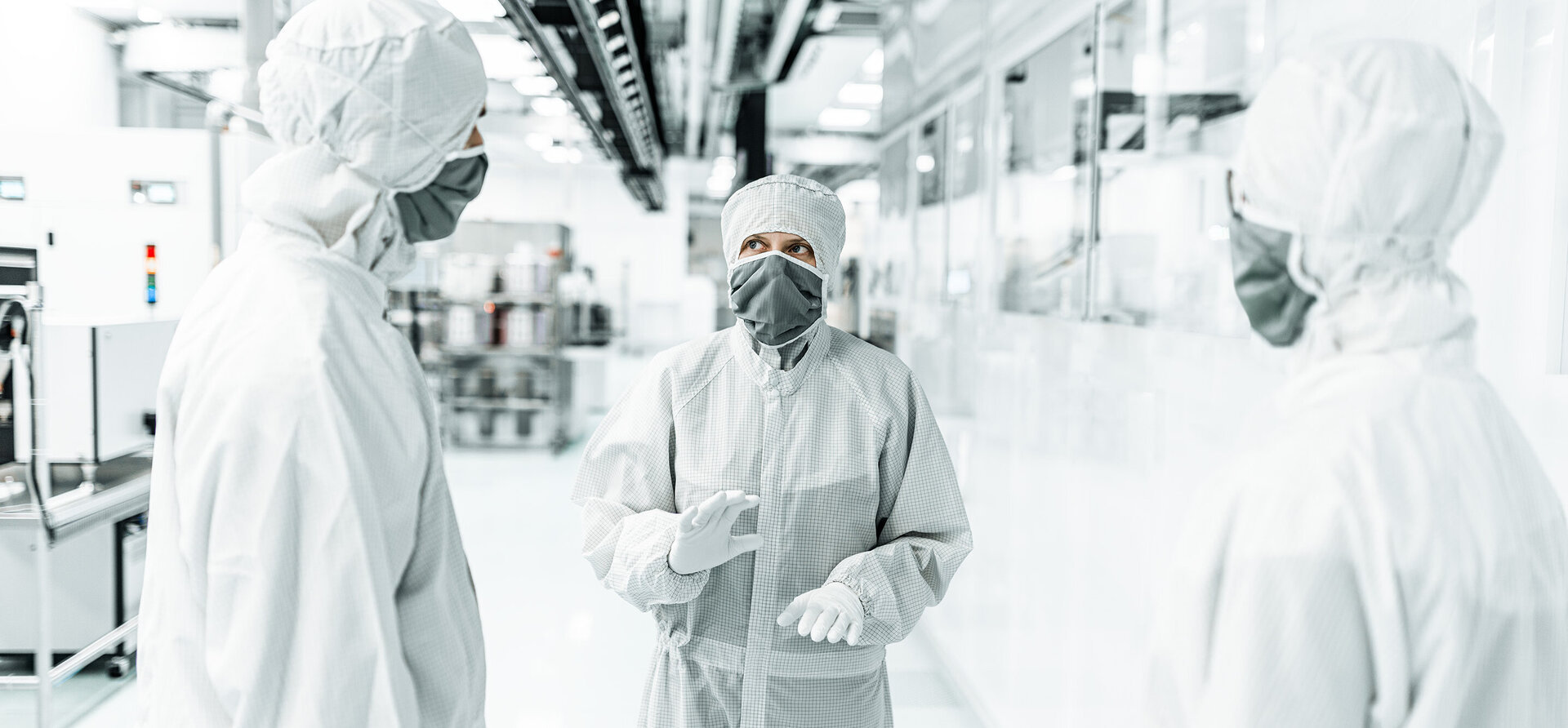 Why work at Siltronic?
In our #TeamSiltronic we live our values trust, respect and teamwork.
---
Focus
We are constantly looking for experienced employees, especially in the technical and scientific field.
Engineering
You have multiple job opportunities as an engineer!
As an engineer you will be responsible for the planning and management of procurement, renovation and optimization projects or for the implementation of technical measures in the maintenance or regarding the repair of complex components. The development and optimization of processes and equipment in terms of quality and efficiency is also part of your job. Specialist knowledge is needed when it comes to automation, energy supply, ultrapure water systems or civil engineering. A wide range of tasks and projects await you as an engineer in electrical or process engineering, mechatronics, mechanical engineering or industrial engineering at Siltronic!
Science
As a technology leader, Siltronic is the driving force behind innovation in the field of silicon wafer production. Together with our customers, we work process-oriented on the further development of sustainable requirements. More than 1,870 patents and patent applications underline our innovative strength.
As a scientist in the department of physics or chemistry, you can expect ambitious tasks in technology, research & development, application engineering, marketing & sales, quality management or in the patent system. An essential part of your work is the intensive cooperation with internal and external partners in interdisciplinary and intercultural teams.
Exciting tasks and projects await you at Siltronic!
Information Technology
With increasing networking and digitization, the jobs in our IT are also becoming more and more diverse. From mapping our business processes in SAP systems to process and plant automation and IT security: Our IT specialists are in demand!
In the area of production applications, we focus on the optimization of production processes, the effectiveness of our systems and the increase of process efficiency. The business applications team focuses on applications for our internal customers outside production. In addition, our infrastructure IT specialists ensure that our networks and structures are fully functional. But project managers are also in demand in IT: we want to continuously develop our systems and keep them up to date in exciting, future-oriented projects. Data scientists are responsible for using data analysis to make better decisions. In the area of IT security, you can support us in the implementation of security systems that are as future-oriented as our silicon wafers.
Exciting tasks and projects await you at Siltronic!
Economics
Commercial experts work for us in many functions. For example, you will perform strategically important tasks in procurement of capital goods, materials, services and IT by ensuring high availability, first-class quality and low costs. In the supply chain, goods flows and production processes are optimized for internal and external customers. In addition, we are regularly looking for employees to join our controlling or human resources departments - to name just two other departments.
Exciting tasks and projects await you at Siltronic!
Specialists for production, engineering and inventory
As one of the leading manufacturer of silicon wafers for the semiconductor industry, we have a strong market position and we are technology and quality leaders. Our skilled employees make a significant contribution to this. We value know-how and experience and are therefore looking for specialists like you to support us in the production of our wafers.
PRODUCTION
For the control and monitoring of our production facilities we are looking for qualified operators who enjoy teamwork and have a high degree of responsibility. The technical supervision of equipment to a defined extent is also part of the job profile. With your technical know-how, you will contribute to seamless processes and consistent high quality of our wafers.
ENGINEERING
Industrial mechanics, mechatronics and electrical engineering provide important knowledge for the operation of technical systems and equipment. You support the installation of technical systems and the implementation of equipment. You recognize and eliminate errors, maintain and optimize technical systems.
INCOMING GOODS / INVENTORY / SHIPPING
As an educated specialist for inventory logistics or similar, you are well prepared for a job in our incoming or outgoing goods department. Your tasks include the storage and retrieval of silicon wafers as well as ensuring that customer orders are processed on time, in the right quantities and with the right quality.
---
---
Benefits Professionals
Exciting & future-oriented projects
Individual higher education and training opportunities
---
Global entry opportunities
Founded in Germany, at home in the world. Siltronic is global – and we think globally. Discover your entry opportunities at our sites!
---
---
---
We offer not only careers without borders, but also the workplace of the future.
At our sites in Asia, Europe and the USA, we offer experts, young professionals, graduates and students a wide range of opportunities for professional development.
Find out about your career opportunities at Siltronic now!
Open positions in Germany Open positions in the USA Open positions in Asia